Cutters
WATCH THIS TUTORIAL VIDEO TO FULLY UNDERSTAND THE CORRECT USE OF THE CUTTING MACHINE:
How to do the right maintenance of the cutting machine?
WATCH THIS TUTORIAL VIDEO TO FULLY UNDERSTAND THE RIGHT MAINTENANCE OF THE CUTTING MACHINES:
How to set up the cutter?
1_Place the machine near to the stockpile of material to be cut.

2_The electric earthing operation has to be done as follows:

- connect one end of the copper plate (section 16 mm2) to the proper connection for the earthing.
- connect the other end to an earth pipe deeply driven in a rather wet and conductive area, or connect it, by a terminal, to a copper plate, deeply laid underground.



3_The cutting machine is usually supplied with the electric apparatuses connected at the required tension (voltage).
It is anyway advisable, before operating the machine, to check whether the motor has been duly set according to the voltage supplied at the site.
For the network connection, connect the socket with a rubberized wire (Minimum section 4 mm2) to the feeding net, then connect it to the plug.
Make sure that the direction of rotation corresponds to the arrow printed on the machine.



How to understand if the flywheel is spinning in the right direction?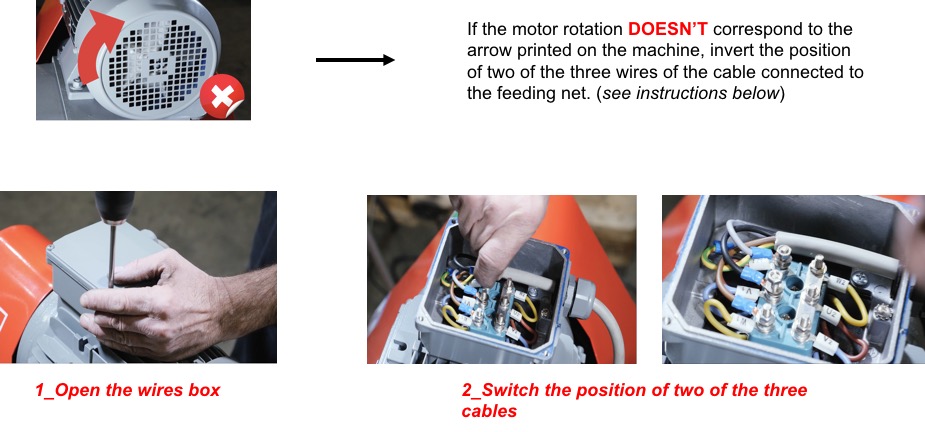 WATCH THIS TUTORIAL VIDEO TO FULLY UNDERSTAND THE RIGHT SET UP OF THE CUTTER: